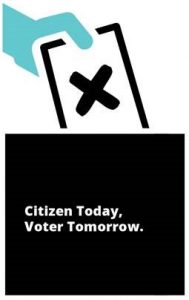 Congratulations on becoming a Canadian citizen! Here is some information to help you get ready to vote:
Register to Vote
To vote, you must be on the voters list. This list contains the names and addresses of registered voters. Registered voters get a voter information card in the mail when an election is called. The voter information card will tell you when and where to vote.
To register to vote:
In a federal election, visit https://ereg.elections.ca.
In a provincial/territorial election, contact your election administrator (see the list of election administrators at the bottom of the page to find your province/territory). Some provincial/territorial election administrators also run local elections and other elections in their province/territory.
Get informed before you vote
Elections Canada and your provincial/territorial election administrator are your best sources for information about elections and voting. Visit their websites for information about where, when and how to vote. Also, talk about your opinions with your friends and family. You can also learn about the candidates by:
attending all-candidate debates;
visiting candidates' websites; and
reading, watching or listening to the news.
Get involved
There are many ways to get involved in an election. For example, you can run as a candidate or work during an election. There are different jobs available throughout the election period, which are paid positions.
Provincial and Territorial Election Administrators:
5)      Elections Newfoundland and Labrador
6)      Elections Northwest Territories
10)   Elections Prince Edward Island
11)   Élections Québec
13)   Elections Yukon